Hoofprints is a record of my horse-life since I came to meet Solo, AKA "Cut a Rug," in January of 2014.
---
The "Trail Notes" below are blog-esque entries. They are posted with the most recent at the top.
Most postings have a related collection of gallery photos. Enjoy!
Pioneer Town Camping

Nov. 8 - 11, 2018
Donna and Bob Campbell planned the group campout once again this Fall at Pioneer Town. According to Donna, the goal is to have fun and certainly, I can say it was a success. Donna planned a Friday night potluck with group breakfasts each morning. Great food and hot meals make camping much more enjoyable! The other two nights we ate at Pappy & Harriet's Bar and Grill, enjoying a warm space with live music. Later in the evenings we sat around campfires and were often entertained by Alan Conway who loves to read aloud and recite poetry. Julie found another joke book, this time it was a Prairie Home Companion with Garrison Keeler. One night Linda brought out music and we took turns choosing songs to sing to. The party atmosphere was in full swing that night with even a little dancing around the fire rings.
The weather was a little challenging this year in terms of wind. Temperatures at night got down below the 40 degrees, but when the wind died down on Saturday, temps reached a perfect 65 degrees. That was the day that I took Elaine and Rich on a ride. All our horses are Rocky Mountains and being gaited allows for a faster ride. Since I knew the trails pretty well, Solo and I led the way. Rich rode Coco and I learned how fast that mare can travel. At one point the trail became steep, and difficult to see. I asked that Solo and I take the lead. We climbed over a fairly challenging hill with rocks and decomposed granite, which can be slippery. When we made it down to the other side, I learned how much my friends liked excitement. They called it an "e" ticket ride. I was proud of Solo and how careful he can be when I ask him. Exploring a rocky canyon, we lost the trail. Rich hiked up on foot to see if he could find it, but apparently we had wandered in to a box canyon. Later on we bushwhacked to find the trail that would take us back to Pioneer Town. Solo was energized by the faster speeds. It was great being able to move out on our horses as Dad would say.
A photo session was planned by Donna and Bob on main street Saturday afternoon. Decked out with their best duds, the group seemed to come alive. I have added some of the photos of my new friends to the gallery.
We had planned to stay through Monday but the winds picked up again. It became clear that most were leaving for various reasons. I packed up and headed home on Sunday as well. What a fun loving group! I feel lucky to have been able to join them on another campout.
Fiesta Swim

September 27
I was invited to return to Fiesta Island to take advantage of the warm weather and opportunity to play with our horses in the water. Running into some traffic, we were nearly the last to arrive. I saddled up but when getting ready to mount, Donna Hein had noticed Solo was feeling a little left behind with the others riding by. Donna thoughtfully asked if I wanted her to wait for us which I really appreciated. Once in the saddle I realized Solo was more relaxed on this visit than the last. He walked along in the water more willingly, even though it is more work than on dry land. When overcast skies began to burn off we decided to remove tack and take the horses out into the deeper water. Of course, Solo spent some time in the shallows, rolling in the water. Alternating between rolling in the sand and the water, Solo looked to be enjoying himself. The last time I was there, I had a little pack of low sugar treats on my waist. Once the pack filled with water, the treats started dissolving. On this visit, I improved it by adding drain holes to the pack and using carrot pieces. Solo responds will to this kind of encouragement. We worked our way out to deeper water and then I swam out a ways. Happily, Solo followed me. He swam out and around me. He actually did this twice!
Just as we were winding up the equine water play, Bob rode out into the water bareback and with only a halter. We were all impressed and cheered him on. After our water play, there was a yummy potluck lunch. Our horses rested by the trailers and ate their lunch while we enjoyed ours. Meredith took a photo that I have added to the gallery. Our group included Bob & Donna Hein, Bonnie & Alan Conway, Julie Nesseth, Laura Kendall, Diana Buchanan, Tanya Snyder, Meredith and I. They are experienced horse people, considerate of of each other, generous and fun to spend time with.
Santa Margarita

September 19
Elaine and Kathy joined Solo and I for a ride at Santa Margarita, Fallbrook. Elaine was riding her Rocky Mountain mare, Joy whom is aptly named. I just met Elaine at the Cuyamaca a couple of weeks ago. Kathy and Dakota are also fun to ride with. That pair really burns up the trails, especially on the down hill. It was great getting to ride with Elaine and Kathy as we all like to gait our horses and we did just that.
While I know the trials fairly well, Kathy led us on a route that included a couple I had forgotten. Santa Margarita is a complex weave of paths that offer quite a variety of challenges and experiences even for the regular visitor. Shady paths and the many river crossings made it a very special place to ride, especially in warm weather. The water flow of the river is constantly at work usually making small but sometimes big changes in the trails. The depths, width of crossings and vegetation growth all contribute to the changing character of the landscape. The well maintained staging area on De Luz Road is only about 30 minutes away, another plus for Solo and I.
Since I am still training Solo to only roll in the water when I allow him to, I am still quite careful on crossings and ride deliberately. So far, he seems to understand. Still, I do not let him stand around in the water while I am mounted on him. On this ride, Solo was allowed to roll in the water at our half-way point, near the Willow Glen staging area. This was a wonderful ride and lasted nearly three hours. I so enjoyed every minute of if! Gallery
Los Vacqueros Group Camp, Cuyamaca Rancho State Park



September 12 - 16
This is one of my favorite horse camping experiences of all time! The Los Vaqueros Equestrian Group Camp at Rancho Cuyamaca State Park has become my favorite. I was treated to the perfect location for my tent, in the shade, just next to Solo's corral. Our group, which was probably about 35 people proved to be exemplary company. I met some wonderful new friends and went away with some great memories.
Wednesday: We arrived just after the gate was opened by Rangers at 2 pm. My camp set up fairly easy and after pizza, provided by Gnni, the organizer of the event, Meredith and I went for a ride at dusk. With just a sliver of a moon, we took a short trail loop as it grew dark.
Thursday: We had been divided into groups of eight and took turns with providing breakfasts. That morning it was our turn. My favorite part were Meredith's muffins. Later on, she and I went on a ride that allowed for some gaiting following the California Hiking and Riding trail. With just two horses, its easier to manage faster speeds. RD came up in the afternoon and later on he took me to dinner at the cafe by Cuyamaca Lake. The group was mainly women, making his visit even more special for me. Gallery 1
Friday: I took a nice ride with my new friends around Stonewall Mine and Lake Cuyamaca. In the gallery, there is a group photo of us lined up overlooking a valley. With Laura's help, we took some photos and I Photoshopped Solo and I in. From left to right: Solo & Peggy, Remy & Laura, Joy & Elaine, Jesse & Julie, Shady & Meredith, Fancy & Tanya. While Solo was in the lead at one point, he was startled by some turkeys but took it in stride. We also passed some deer at a distance but our horses only raised their heads in response. The rest of the day our group enjoyed Margaritas thanks to Laura's hospitality. We partied in her RV which comfortably holds a surprising number. I guess I was still pretty relaxed by the time I worked on my contribution for the potluck dinner. I forgot to turn over the camp stove grill (which made the pot sit rather low on the burner). Fortunately, I was keeping a close eye on the stove, and I only scorched the tablecloth! Happily, the mac & cheese was a hit at dinner. My little air mattress seemed particularly comfortable that night and I only woke once which is rare even at home! Gallery 2
Saturday: After delicious breakfast burritos, we planned a ride that Meredith suggested, up to Azalea Springs. Before we were ready to leave Kim and Stephanie rode out in that direction. We soon learned that they had encountered trouble. Laura and Tanya went out on foot in their direction. Apparently, their horses spooked and Stephanie's saddle slipped. After many phone calls, the rangers and paramedics finally got to her. Unfortunately, she had sustained a very painful broken arm from the fall. Later in the day, Julie, Meredith and I went ahead on our ride up to Azalea Springs. At one point, Solo was in the lead as we climbed up the trail along Azalea Creek. Up jumped two deer right in front of us! They were only about 20 feet ahead and scrambled in our direction before heading up the slope to get away. I only had time to yell "watch out" as it all happened so quickly. Solo and I just stood and watched in surprise. Since he didn't bolt, Jesse and Shady stayed calm as well. I was so proud of my wonderful trail horse! Gallery 3
Sunday: There was a plan to take a short ride before we had to leave at noon. I woke up about 5:30 am, very uncharacteristic of me, worked on packing up and managed to fit in another ride around by the lake. It was a group effort to make sure we cleaned up the camp, including the bathrooms. I forgot to mention that the facilities were quite nice. Solar headed showers were delightful and made tent camping much more comfortable for me. There were quite a number of tent campers overall. I am so glad I was able to join this group and hope to camp again soon.
Fiesta Island, Mission Bay, San Diego

September 6, 2018

Fiesta Island is one of the few beaches in Southern California that allows horses. Meredith and I planned our visit after school started and on a week day. As you can see by the gallery photos, the beaches were practically empty. I was glad it was not on the weekend with hundreds of people, kite surfers and Sea-doos racing around. That would be a zoo and probably way too much stimulus for a fun ride.
We decided to let the horses play in the water first. The lagoon is fairly clam in terms of waves unless a Sea-doo passes nearby. Using long ropes we tried to figure out how they would react to riding into the deeper areas. Solo rolled in the shallows a number of times and finally seemed satisfied. When he tasted the water he didn't seem too bothered by the salt content. Fortunately, he didn't drink too much of it.
Next, we tried riding bareback around the edge of the lagoon. Meredith had read about how some people tie a rope around the girth and leave it loose enough allow your knees to be stabilized by the rope. That technique didn't work for Meredith and I found that a wet horse is very slippery. Solo showed he was a little nervous by chewing on his bit and with other subtle behaviors I recognized, he put me on alert. This was not his normal layed-back attitude. When Meredith suggested we give up on the bareback idea, I agreed immediately. Feeling more secure, we rode along the edge of the water but had to work at keeping the horses walking in the water. They usually like to conserve their energy and it was obvious to me that walking in the water was more work. Still, with some encouragement, we splashed along the edge most of the way.
We rode back along the the lagoon, and thought we would try to swim the horses over to the little island. One of the photos I inlcuded of Solo looking across to the island makes it look farther away. Meredith and I both thought we could get across. I often hear people talk about how, when they were young, they swam with their horses. What Meredith and I found was neither Shady or Solo wanted to cross to the island. Even with their tack removed, we were not successful in leading them. Meredith got out a little further first, but once Shady started swimming, she was coming toward her and struck Meredith with her hoof. While she was not hurt, that was one of my concerns as the water is not clear enough to see just where the horse's feet are. When Solo decided to go back where it was more shallow, I realized I was no match for his power in the water. At that point I decided to return to the shore.
Did I say that probably one of the reasons why Fiesta Island was so deserted on our visit was also due to the cooler weather? Overcast and with a good breeze, our wet clothes made it a bit chilly. We ate our lunch in the truck while discussing what we had learned that day. I will certainly return sometime to continue our education. Perhaps someday Solo and I will take a swim, and then again maybe not... Gallery
Santa Ysabel Open Space Preserve, East

Julian, CA Monday June 18, 2018
Solo and I invited Kathy Cooksie and her new, Tennessee Walking Horse to Santa Ysabel East. He is a handsome golden buckskin gelding, with an amazing mane. We met Peggy and Lina at the East staging area located near Julian on River Road. There are actually two staging areas for this tract of land. The other is down on Highway 79 but it is little more than an access gate along the road. I like where we met for a number of reasons including: a better place to park trailers, latrines and you start out at the higher elevation. There is no drinking water provided unless you count the water trough for the cattle that our horses drank from. The trail leads past grazing cattle, crosses a couple of streams and includes rolling grasslands. Our horses tasted the stream water as well. From high points, we could see the Palomar Mountain and the Observatory at a distance. The weather was perfect that day, with a nice breeze. The ride was a little less than three hours and when we returned Kathy shared some wheat bran mixed in water with Solo. He seemed to enjoy the taste as you can see in the final gallery photo : ).
Santa Margarita River: Summer Fun

Fallbrook, CA Friday June 15, 2018
We are especially lucky to live so close to the Santa Margarita River Trails. Alisa, Meredith and I rode there last Friday and from what I can tell, Solo had the most fun of us all. I must remind you that Solo has laid down in the water twice with me in the past. Training him to not lay down with me and still allow him to enjoy a dip in the water has been my goal for the last two years. So far, we have been successful. When we approach a water crossing, I make sure we are not in the middle of the group. We don't want to have to stop and wait for the horse in front to drink or play. I don't trust him that much yet. We ride with purpose across the water and I say "walk on". Then, when we find a perfect location with a sandy bottom, I take off Solo's tack and give him permission to play. As you can see by the gallery photos, Solo is a sea horse.
3rd Annual Lake Perris Campout

Lake Perris State Recreation Area May 4 - 6, 2018
It was about 4 pm on Friday when Meredith, Alisa, and I left the horse camp and headed NE on a trail that eventually overlooks the valley and beyond to the San Timoteo Badlands. At first, we thought we would just ride to where the trail ends at the edge of the recreation area. Along the way we asked some hikers about the dirt road that loops around Russell Mountain. They told us it wasn't that far. After a bit of debate we decided to try it. Some years ago I had ridden out the east entrance so I thought it couldn't be that far. We left the well groomed trail along the housing track and followed a dirt road.
The landscape is looking pretty dry out there for early May. We we were entertained by big hawks flying overhead and calling to each other. A coyote sat and watched us as we passed by. The ground was pretty hard so we kept the pace to a walk. Alisa and I got off and walked a while. Finally, we reached the East entrance and headed back. Once we climbed over the ridge the grasslands have a double-track, dirt road that is relatively flat and goes on for a good mile and a half. The horses were feeling good and since it was nearly dusk, we gaited along the road. Alisa had Andante in his little canter part of the time and we made short work of the distance. What fun! By the time we returned to our campsite it was nearly dark. We had been out for more than three hours and decided that everyone would sleep well that night.
The loop trail around the lake, which is about 10 miles total, was finally open again after two years. Our camping neighbors told us they rode on the damn, which in the past has been prohibited. We headed out early in the morning. Well, we tried to get an early start but ended up leaving around 9:30 am. The weather forecast predicted it would reach 92 degrees so Meredith loaned me her extra cooling vest and Alisa, her cooling scarf. They are garments that absorb and retain water for keeping cool. I had never ridden on the damn before and found it both cooler and a great vantage point. At the SE end of the damn is a short distance of steep trail that pops over to where rock climbers are often seen. We were glad that Meredith had suggested we ride the loop in this direction. The first part was very steep and eroded in some areas. Its easier to go up a trail like that than down.
We reached the picnic areas on the far side of the lake and decided our horses might need to drink. Unfortunately, piped water is not turned on so we tried to get the horses close to the edge of the lake to drink. That proved to be difficult due to branches and rubble being washed against that side of the lake. Then boats go by and create a wake that moves the rubble. There were some pretty big stumps of wood that didn't look safe to me. We finally found one place that was promising. Knowing that Solo was hot and might want to roll in the water, I took off his tack and let him go in. He did roll but none of the horses drank much.
Lunch in the shade under the trees was most welcomed. Solo got a few carrots I had brought along. At that point we were about half way around the lake. The rest of the ride was pretty hot. We never did find water available at any of the troughs or drinking fountains.
Saturday Night and Sunday Gallery
Saturday evening we had a party. Millie drove out to join us and brought a salad and cupcakes she made for dessert. Sharon and Ben, a couple we met at Pioneer Town last fall joined us for dinner. It turned out that this was another birthday party for me plus retirement party too : ).
Great food and libations. Thanks for the gifts too!
Later that night, Meredith rode Shady around after dark near the campsite. There was no moonlight. Alisa and I walked our ponies behind her. I knew that Solo could see much better than I. Holding on to his mane, he led me. I might as well have had my eyes closed for how much I could see. This experience ended up to be another highlight of the camping trip. It was like one of those trust exercises couples sometimes engage in. Being in his presence, trusting that Solo would take care of me, I felt in awe of this big, sweet animal. It was a very special moment for me in our relationship.
Our morning went by fast and we only had time to ride for about an hour before packing up. All and all, it was a great ending to my 3rd Annual Lake Perris Campout.
San Pasqual River Trail

April 7, 2018
This is a nice ride along the valley between the 78 highway and Bandy Canyon Road in Escondido, CA. Alisa, Meredith and I staged at the area closest to the east end of the valley. When we were tacking up, a couple of riders told us about their ride in the river bottom. Their horses looked very fit. Because riding in sand is harder on horses tendons and legs we decided to stick to the main trail.
The weather was perfect. Along the trail, we passed by orange groves in bloom, full of that wonderful scent that always reminds me of my Mom. This trail skirts a huge turf farm and then joins Bandy Canon Road for a short ways. Riding along even a country road with little shoulder to ride on can be challenging when the vehicles don't slow down. A bunch of balloons were tied to a mail box across from the old dairy which might cause fear in some horses. The trail then crosses a bridge on a wood walkway just prior to getting on the single-track trail that winds through the valley. I am always happy that Solo can calmly negotiate these kinds of obstacles.
My riding endurance has been less than optimum recently. The plan had been to ride up to the hills and have lunch, then return on the same trail. When we passed the small staging area that is at the dirt road about at the half-way point in the valley, wise Meredith suggested we stop there for lunch to give me a break. That ended up a wise choice. We decided to see if we could explore the river bottom on the return trip. It was a little adventure to add to our ride. After a time, we ended up on the opposite side of the river bottom. It became choked with scrub and rubble preventing us from getting back across to where we would pick up the trial. Up at the bridge we found the trail that comes from Bandy Canyon Ranch and were able to cross.
Lilac Fire, Fall, 2017

On Thursday Dec. 7, during particularly strong Santa Ana wind event, a fire started along Interstate 15 near Old 395 highway. My friend Alisa was leading a group text to arrange a get-together for the holidays. Suddenly, the topic changed to fire. I turned on the TV news and saw how close this was to Saratoga Estates, where Solo is stabled. The wind was fanning the fire as it raced down the San Luis Ray river valley. There was only one small mountain, if you could call it that, between the fire and Solo. Quickly, I realized that I needed to take our truck out to Thompsons Ranch and hook up the trailer in the event we needed to evacuate. RD took the Mazda and headed out shortly after I left home. It was lucky that I took Buena Creek Road to the 15 instead of through Vista. RD never made it to the ranch that day. After hours getting to the 76 highway, he was turned around due to road closures. The fire was headed that way.
When I arrived at the ranch at about 1pm, I learned there was a mandatory evacuation for Saratoga Estates. Packing up Solo's most important tack, I proceeded to hook up the Brenderup. There was talk of a different way to get out, so I loaded Solo up with the intention of adding Cupido and driving out to Camino Del Ray through Moody's property. Millie loaded the back of her truck with hay. Unfortunately, Cupido was unwilling to load in with Solo. We were forced to come up with an alternate plan. Horses would be walked down the trail to the rider's field where trailers would wait to load up. I unloaded Solo and drove the trailer up Thompsons steep driveway to the ring road. This is what I normally have to go through to trailer Solo somewhere. The driveway is too steep to pull the trailer out with a horse inside. At the top, Solo showed what a smart and calm horse he is by walking right in the trailer for me and we drove down to the Riders Field. At this point, I would like to add there was no evacuation plan and things were pretty dicey. Some residents were evacuating their horses but others ended up staying. The wind would only have to change directions and the fire could have quickly been there!
The afternoon was turing to evening. At Riders Field, there were cars and at first only one stock trailer that a guy named Rod, from Temecula had shown up with. Rod had heard about the fire on Facebook and came to help. While I parked my rig up on the ring road, I opened Solo's side door so he could look out. Meanwhile, as time progressed, trouble loading horses showed us how difficult and potentially dangerous a situation like this can be. Horses are very sensitive to not ony smoke in the air but sense fear in humans. I watched nervously as scared horses refused to load. Then, another trailer showed up pulled by Krystal Jenkins, who has friends at Saratoga. This was her second trip over to rescue horses. Finally, Cupido got into Rod's trailer and Krystal loaded Red into hers, just as a huge cloud of dark smoke passed across the sky. It looked so close! Krystal invited Mille and I to evacuate to her ranch in Escondido. Red was brought along as his owners were not there and Krystal said she had room for one more horse. As we hauled out to the frontage road by the 15 fwy, I noted an escort of about 5 trailers heading back to where we came from. Up ahead, I saw the road block to Camino Del Rey. Beyond it was a very long line of horse trailers in both directions, trying to get in to save horses. We would learn later, they would be too late for many of the horses that perished at the San Luis Rey Downs Training Center only about a mile west of Saratoga Estates. The other end of Camino Del Rey had been completely closed where the fire had crossed the road and jumped the 76 Hwy.
It was a good thing that MiraCosta College was closed that afternoon, or I would never have made it to class. It was dark by the time we unloaded at Krystal and Marty's home in Escondido. After the horses were unloaded and safe in corrals, Millie and I were invited in for a much appreciated glass of wine. We met Krystal's dad and her two children, Annie and Mars who welcomed us as if we had been long time friends.
Millie and I met each morning at the Jenkins' ranch to clean and help where we could. While Krystal had to leave for the weekend, Marty, her husband, stayed home with Annie to be there if we needed him. That is one generous family! Oh, and Solo had fun chasing the ducks out of their corral.
On Monday, the power and water were back on at Thompsons. With the danger of fire past, I picked up Solo and returned him to Saratoga. My takeaway is this. We were lucky the ranch was spared. We were lucky that we were rescued by some generous and loving horse people. We were lucky the fire didn't come over the hill. We were lucky to make new friends. We were lucky.
Pioneer Town Camping, Fall, 2017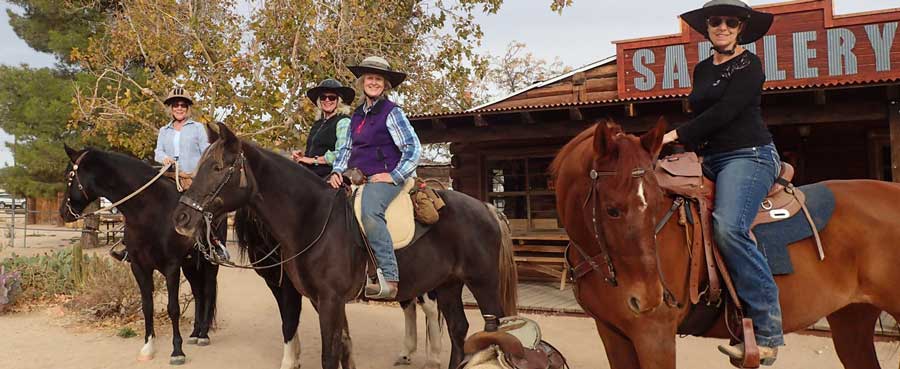 Its been a couple years since Solo and I have been out to Pioneer Town. We joined friends and other members of the Vista Palomar Riders who planned a long weekend Nov. 10th - 12th at the Pioneer Town Campground. Solo and I left Bonsall about 9:30am on Friday morning making the trip in about 2 hours and 45 minutes. Happily, it was uneventful. When we arrived, Meredith and Alisa pulled in about 5 minutes behind us. The weather was mild for our weekend with highs in the 60's.
After sorting out the logistics, we settled in with a plan to take a ride later in the day to show Alisa around. For our first ride, we rode out of town. With the short winter days, by the time we returned it was growing dark. We saw a very bold Coyote on our return. Gallery Day 1
The second day, Saturday, our new friends, Sharon Saidi and her husband, who have a house out in Pioneer Town, showed Meredith and I a trail I had not been on. It led us up into land protected by The Wildlands Conservancy. Near the top, the trail was washed out, forcing us to turn around but afforded us views of the valley as we made our way down. At one point, Meredith dropped her glove. At that point, the single-track trail was steep. We stopped and watched Meredith as she prompted Shady to pick up her glove. All of us were so impressed!
Later that day we rode through the main street of Pioneer Town. The old movie set is a draw for tourists and horse riders alike. That evening Alisa treated Meredith and I to a delicious meal at Pappy & Harriets, the famous desert restaurant that hosts live music as well as excellent BBQ.
Gallery Day 2
Sunday morning, we headed off towards the Sawtooth Loop Trail. Instead of going on the nearly ten mile loop we headed south at the trail marker. Since we only had the morning to ride, we took what I think is the south entrance to the Sawtooth trail that leads to some shorter trails through striking rocks and hills. We had heard various talk about the "technical difficulty" of this trail and the Sawtooth loop. Our horses took their time on the steep parts and carried us safely through. This was my favorite ride of the weekend. Gallery Day 3
Caspers Wilderness Park Campout, October 10, 2017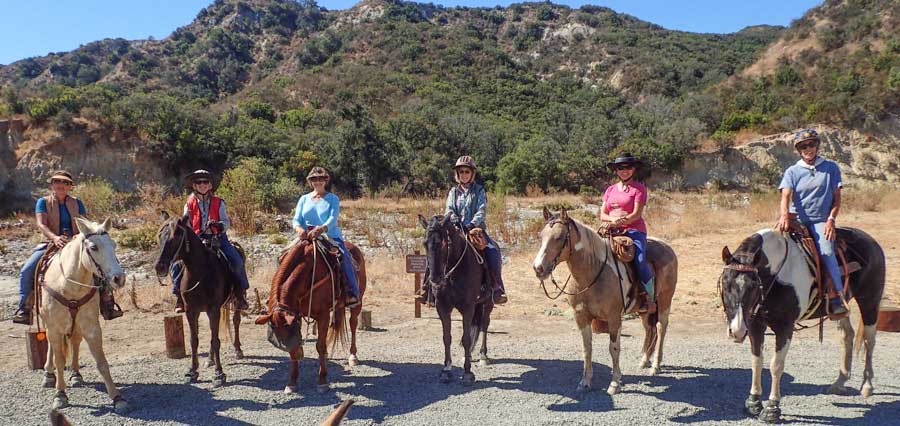 Our (Solo and I) first horse camping trip after my total knee replacement took place last weekend at Caspers Wilderness Park on Ortega Highway in Orange County, CA. On Saturday, October 10th, Meredith and Shady picked us up at Thompson's Ranch in Bonsal. We hit some traffic through San Clemente traveling north, but still arrived before the 2pm check in time. At that point it was Red Flag due to Santa Ana winds, and hight temperatures which meant no campfires and possible windy conditions to deal with. The good news was the ranger told us that no one had been in campsite # 1 on Friday night so we were able to pull right in and unload.
Camping with a horse takes some planning and preparation. Along with the usual amenities of a camp site, what you get at a horse camp is usually a couple of pipe corrals and hopefully a water hose bib close by. Some of the things you need to bring along are large water buckets, plenty of hay, feed bags and bowls, tack, saddle packs, helmet, gloves, a first aid kit, hoses, and grooming tools come to mind. As I was sleeping in a tent there are all the things that go with tent camping. Counting on the fact that Meredith camps often her bins of cooking pans and utensils were appreciated. This trip I didn't bring the correct charging cable for my phone and Meredith's truck. Gladly, with the reception poor, I just turned my phone off and barely used it. That made the weekend even better without news broadcasts and emails!
As we unloaded all our gear, we noticed that our immediate neighbors were a couple of guys. We soon discovered that they were father and son. The son is a farrier who lives in San Diego, and the father lives in L.A. They met to get together for riding and the father's horse conveniently got new shoes. We enjoyed their music and were sorry to have them leave on Sunday. In fact, by Sunday afternoon, most of the camp cleared out and left us with just our friends the last night and Monday.
Saturday, we headed out on the Juaneno Trail for a ride in the afternoon. I discovered reading the history of Casper's Park that the trail was named after the Juanenos who were native American Indians. They lived and prospered within Bell and San Juan Canyons thousands of years prior to the 1700's. The Juaneno is one of the trails that has trees that provide shade. I have been to Caspers when the San Juan Creek had water running but this visit found it dry. The weekend being a hot one, with highs in the 90s, horses and riders enjoyed the shade.
Solo loves Meredith's horse Shady. They are the same breed - Rocky Mountain horses. The last time I rode with Meredith, Solo called and called for her as I rode away from them. Solo is a pretty quite boy. He rarely whinnies for any reason. So the fact he whinnies for Shady is impressive. Not long after the horses were side by side in their corrals at Caspers, they were mutually grooming. And then there was the love making. Solo being a gelding makes it just PG but the braid in Shady's tail kept mysteriously becoming undone.
Saturday evening, we joined our neighbors, some of whom are members of Vista Palomar Riders group. At one time I was a member and knew a couple of the women in the group already. I won't list all their names here but it was really fun to have them there at the camp ground. The park rangers came by and told us we could have a fire after all. I was especially happy since I had brought firewood. The evening was filled with horse stories and lots of laughs. Allen, the only husband / guy in the group and a gregarious sort, seemed to enjoy himself and told stories about his homeland, Ireland. As a young man he raced steeplechase.
On Sunday we had two rides. Meredith and I just rode as pair that day. We went out in the morning and then again later to avoid the worst of the heat. I was introduced to cooling vests that day. Meredith brought two and let me wear one of them. They are quilted with special interior fabric that retains moisture after the vest is soaked in water. With the heat they slowly evaporated, keeping us cooler. I am definitely going to add one of those to my riding gear. One of the rides was on Bell Canyon Trail which passes by the day camp and a red wooden wind mill that pumps water. Meredith noticed that Shady was not very energetic, especially on our afternoon ride. By the evening we were concerned about her. She didn't eat much in the afternoon, nor did she drink much water. We dug out my first aid kit with a thermometer and book to remind us what a horse's normal temp is. Shady was a little hot but only by 1 degree. Meredith made her a sloppy mash for dinner. Fortunately, by morning she was back to normal and eating again! I know Meredith was more worried than she shared and was so glad Shady was good again in the morning.
Late Sunday evening, Meredith and I were watching the stars come out at our campsite and we heard a curious sound. "Is it a bird?" I asked "No, I don't think so." Meredith replied. "Wow, maybe it is a Cougar?" I remembered that in the past, Caspers Park has had trouble with Cougars. Then we heard the sound again. "I think it sounds like a cat" I said. After more of those sounds, Meredith offered to sleep in the back of her truck and said I could take her bed in her trailer tack room. "What about the horses?"I cried. She assured me they could take care of themselves. At that point, I got up and found my big flash light and headed over towards the bushes where the sounds were coming from. All of a sudden, Heidi, one of our neighbors jumped out from behind some cactus and roared like a lion. We all burst into laughter. I have to admit, I think I would have slept poorly if we had not found out it was all a joke.
Our last ride, Monday morning, ended up on Bell Canyon Trail again. We ran into the rest of the group and joined them. Most of my riding is with one or two other horses. With Meredith and I, we were 7 horses and riders. I had just heard Meredith talk about her last ride in Garner Valley with 20 riders! That definitely sounded like too many for me, especially on a narrow trail single file. At one point, Solo was lead horse in the group, and he was last position for a while as well. Some of the time he was near the middle. Happily, Solo's manners were excellent. I found myself energized by the group ride and thrilled to have such a sweet and willing parter. I am also grateful to have friends who share my passion for horses. What a gift.
Lake Perris Campout, April 23, 2016
Just before my birthday this year, my friend Alisa and I traveled out to Lake Perris for a weekend of horse camping and riding. Andante, Alisa's beautiful American Saddlebred gelding, has ridden with Solo many times. In fact, Andante used to be a ranch mate of Solo's. Even though we nearly have to shoe-horn Andante into the Brenderup, his previous years of being a show horse makes him a pro at trailering.
We reserved site # 7 at the horse camp, which has a wonderful view of the lake. Once we arrived and turned our horses out into their corrals, Solo wasted no time rolling and then found his spot looking out over the valley. I noticed he spent much of his free time there. I have concluded, Solo loves a view.
Alisa and I set up camp and then went out for a ride. Currently, the Lake Perris dam is being reinforced.They are blasting rock from the south east end and have temporarily limited the trails to the northern end of the park. While we couldn't ride the 10 mile trail around the lake, we found that they have groomed some of the double track trails very recently. The footing was perfect and so we gaited and even cantered a bit. One thing about Perris is that the temperatures can be quite hot much of the year. We were happy to find gentle breezes in the low 70's. It was perfect weather!
When we came back from our ride, we asked one of the women who were horse camping near us to take our photo. We were a little curious about the fact that by Saturday afternoon there were only two horses, two women and two very large motor homes. We learned that these women come each year at this time. Their husbands drive the motor homes out, level, and set them up and then leave! On Sunday afternoon we saw the husbands return and take the motor homes away. Alisa and I agreed, these women really have a good thing going.
Even though we only had a tent, it was still wonderful to wake up in the morning and look out at our beautiful horses. Alisa had gotten up earlier and hiked around our camp area taking some photos of the beautiful wild flowers in bloom. They are included in the photo gallery.
On Sunday we took a nice ride on a single track trail at the north end of the park that I had not yet been on. The trail affords a great view of the lake and valley to the east and south. We enjoyed a picnic lunch down near the lake while our horses nibbled on grass. It was a perfect day to spend with a good friend and two most excellent equines. Campout Gallery
Three Rockies at Cuyamaca, March 2, 2016
On March 2nd, Meredith, Susan and I trailered our horses for the weekend to ride Cuyamaca Sate Park equestrian trails and camp at Boulder Oaks Campground. Our horses were well matched as they are all Rocky Mountains. Above left: Susan on Arwen, Peggy on Solo, and the right: Meredith and Shady. Riders of gaited horses will usually agree that it is most enjoyable to ride with other gaited horses. They match each other's long strides.
Saturday we staged along the 79 highway which runs through Cuyamaca State Park. The space along the road is rather limited. Hikers and bicyclists also park their vehicles there. When we arrived with our two trailer rigs I noticed a man with a bicycle preparing to leave. If he only moved his vehicle up 10 yards, we would be able to park in one of the empty areas. I jumped out and politely asked him to move his car up. At first he seemed rather put out but grudgingly did so. I thanked him more than once. Susan was able to park at the other end. There is a photo in the gallery of Solo and Shady. Meredith was kind enough to let me try her saddle on our ride that day so we had switched saddles.
When we were all tacked up, we crossed the road and headed for the Blue Ribbon and Merigan Trails. The Merigan Trail is actually an old, dirt fire road. The landscape is mostly chaparral and from the higher points there are wide vistas to enjoy. As we traveled toward the south we turned off on to Blue Ribbon Trail. This is a single track following down into a canyon that joins back into the Merigan further south. At one point we stopped for lunch near a tree and sat on a log in the shade. Our horses munched on carrots while we enjoyed our lunch.
The Three Rockies seemed to enjoy our ride as we took turns leading. It is always nice to be on a ride where everyone gets along. There were areas of trees and even a water crossing. At one point we were passed by a couple of endurance riders. I noticed Solo picked up his pace. He wanted to keep up with them as they cantered by. The Merigan trail ends at the Descanso staging area. We stopped just short of it and surveyed the valley as our horses grazed on green grass and rested.
On the return ride we looped around on Sweetwater Trail. At one point we passed the man on his bicycle I had talked into moving his car earlier that day. His demeanor was completely changed. As we said hello, he greeted us with a big smile. I thought about what an attitude adjustment nature and open areas of land can provide. Whether one walks, rides a horse or a bicycle, the experience is good for the soul.
Our campsite was only about 20 minutes away once we loaded up and got back on the road. I had enjoyed Boulder Oaks Campground when Meredith and I spent the night there before our Pacific Crest Trail ride last year. It was fun having Susan and her horse, Arwen there with us. We chose the very same camp. With two sites across from each other our horses could be together. I set up my new tent with a little help from Susan just before dusk. Our campfire, dinner, excellent company and the stars overhead were a perfect end to the day. East Mesa Gallery
In the morning, we packed up our campsite and headed back into Cuyamaca. This day we planned to ride the Harvey Moore trail. We staged from Sweetwater parking area just north of the Green Valley Campground. We would have stayed at Green Valley but they don't open until April 1st. We saddled and headed up the trail. At first, I was not too thrilled with how rocky and narrow the trail was. In some areas, the erosion was so deep I could nearly touch the sides with my feet from the saddle. It seemed like we climbed for a very long time but the further we went the better the trail became. We passed through some beautiful areas that were untouched by the last two devastating fires that burned so much of Cuyamaca. It was so good to see the Pines and Oaks still standing. We were headed for Dyer Springs trial. At the furthest point, there is a spring box and water for the horses. We lunched nearby in a beautiful area of trees and rocks. There were even pipe hitching posts for the horses.
Of the rides I have taken in Cuyamaca, the Harvey Moore trail may be my favorite. The rough beginning could be a deterrent for some, however, once we were in the back country, it was absolutely beautiful! We nearly had the trial all to ourselves. Interestingly, on the way back down the most rocky part, it seem much shorter and not nearly so difficult. Our two days of exploring new trails in Cuyamaca State Park had a happy ending. Many thanks to Meredith for trailering Solo and I on another great adventure. Harvey Moore Gallery