Solo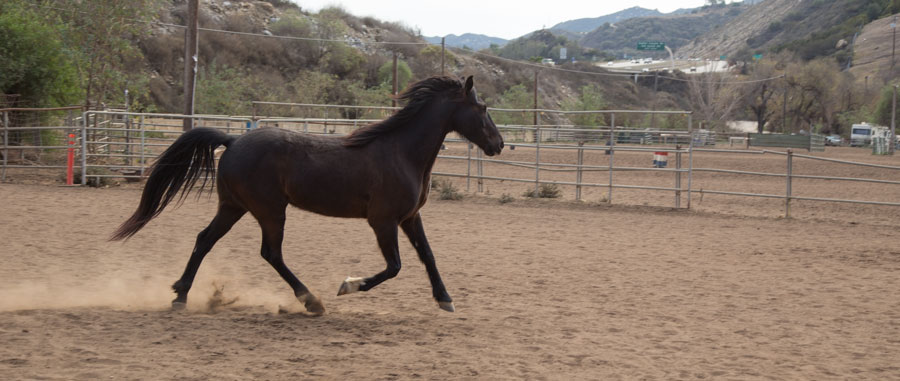 Cut a Rug AKA Solo, came into my life on January 2, 2014. He is a registered Rocky Mountain gelding horse. His papers describe him as seal bay in color, but so far he was brown in his winter coat, and is now shedding out much darker. He is 15 hands high and just had his 6th birthday on February 27th. He has a calm and kind nature but is ready to go when you ask. I think we are a good match for each other and love being with him.
Delgado
Un Delgado Relampago, AKA Del, is a flashy, registered Paso Fino gelding. We became partners in July, of 2010. A high energy, e-ticket ride, this desert horse made me feel beautiful when I rode him. I enjoyed his good looks, smooth gait and fun personality for nearly three years. However, we were just not the right fit and now he is back with his previous owner in Nevada.
Glory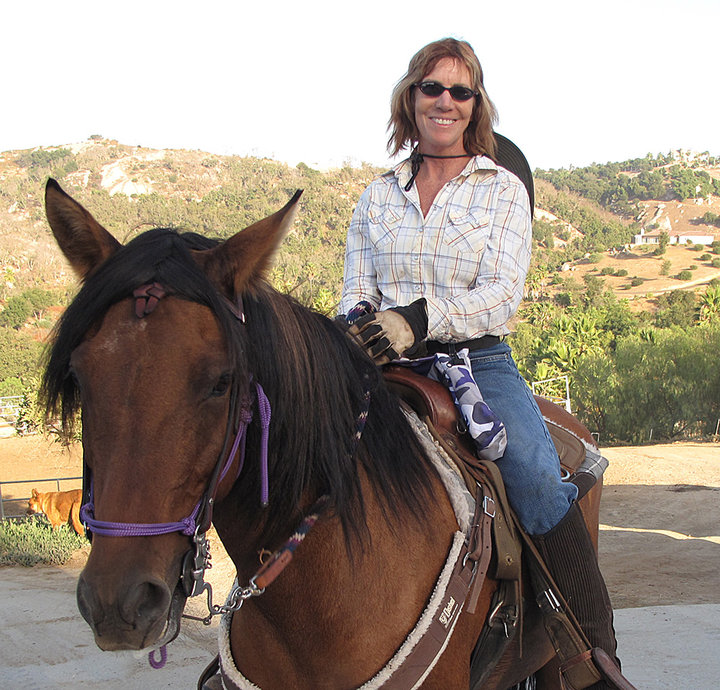 Glory and Del came to us together. When I bought them, my brother Dale said "Now you have a herd." I thought Glory would be RD's horse. Unfortunately, his physical condition did not allow for that. We kept her for a year before I accepted that having two horses to ride and a full-time job is too much. She was much calmer than Del, and I could bushwhack on her without any problems. Above is after one of those trail blazing rides. If Glory had been able to get into the Brenderup trailer, I probably would not have sold her, but even after hiring trainers, I just couldn't convince her to get in.
Telma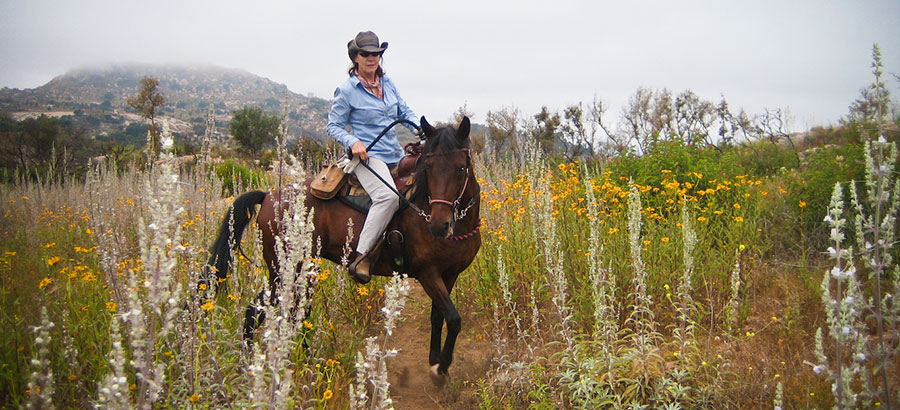 Telma gave me my horse life back in 2009. I leased her from Daniel Rojas and rode her for nearly a year in the hills around Ramona. This is a ride to the Ramona Grasslands that we did frequently, but in those days, we could ride for miles all around the Ramona Reservoir. I owe my current horse happiness to Telma, a most excellent Paso Fino mare.
Porlock Vale Riding School
At Porlock Vale Riding Academy in Somerset, England, I rode a number of horses while studying for my British Horse Society Assistant Instructor's Certificate in 1970. On Sailor, I jumped in a field overlooking the Bristol Channel. I cherish these memories and am so grateful for the opportunity that my parents gave me as a graduation gift from high school.
Shawnee
Shawnee was my American Saddlebred horse during high school, in 1966-68. He was a 15 hand bay gelding. I rode him mostly bareback and enjoyed his smooth gait. Sometimes my friend Robin would ride double with me. We kept him at a place near our house in Chino on Sycamore Ave. Shawnee would cross his legs if you asked him.
Pal
When I was seven years old Dad bought me Pal, my first horse. At the time I thought I had waited forever! He was a very sweet, older Palomino gelding. These photos were taken when we lived in Ontario on a farm in March of 1963 when I was eleven years old.